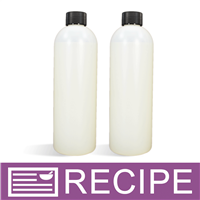 (Enlarge Image)
NOTE: If you are making these products for sale, good manufacturing practices recommend you wear a hairnet, gloves and a mask. We also recommend a clean apron and workspace.
In beaker, mix fragrances with stabilizer and let sit for at least two minutes.
Add 67.5 oz. bubble bath into mixing bowl. Heat for 60-90 seconds.
Stir in 1 oz. Shea 50.
Mix in 1.25 oz. of fragrance mixture.
Using a large funnel, fill four bottles with 17 oz. each.
Repeat steps 2-5.
Let product cool completely, and then twist on caps.
Label product accordingly.
To Use: Pour desired amount into tub under running water.
Caution: Use only as directed. Excessive use or prolonged exposure may irritate skin and urinary tract. Discontinue use if rash, redness, or itching occurs. Consult your physician if irritation persists. Keep out of reach of children.
Ingredient Label:
Water, Sodium Laureth Sulfate, Sodium Lauryl Sulfate, Cocamide MEA, Cocamidopropyl Betaine, Methylparaben, Chloride, Methylisothiazolinone, Citric Acid, PEG-50 Shea Butter, Fragrance.