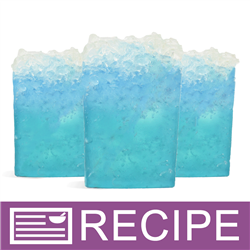 (Enlarge Image)
NOTE: If you are making these products for sale, good manufacturing practices recommend you wear a hairnet, gloves and a mask. We also recommend a clean apron and workspace.
Using a salad shooter or a cheese grater, shred 12 oz. of clear soap and set aside.
Into a large microwave-safe measuring cup, add 32 oz. of clear soap cut into small chunks. Heat in microwave until soap has completely melted.
In a plastic beaker, mix fragrance oil and vanilla color stabilizer. Let sit for two minutes.
Add fragrance mixture and desired amount of color to melted soap and stir well.
Spritz the clear soap shavings with rubbing alcohol and place a few handfuls down into loaf mold.
When temperature of blue soap has cooled to around 135°F, pour into the mold filling about one fourth up. Keep adding soap curls and blue soap until the mold is filled. Add extra soap curls to the top until they are heaping.
Melt about 1.5 oz. of clear soap and drizzle over the soap curls on the top. This will hold them in place once the soap is unmolded and sliced. Let soap completely set up.
Gently pull the sides away from the soap. Place the soap on its side and gently press on the bottom to release the soap. Continue applying pressure until the soap completely releases from the mold.
Slice soap into 8 one inch slices. Wrap in airtight packaging or plastic wrap.
Label product accordingly.
To Use: Lather onto wet skin and rinse off.
Ingredient Label:
Sorbitol, Propylene Glycol, Sodium Laureth Sulfate, Stearic Acid, Lauric Acid, Water, Sodium Hydroxide, Glycerin, Fragrance, Blue 1.