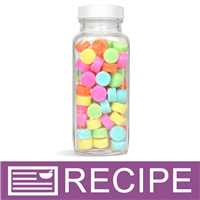 (Enlarge Image)
NOTE: If you are making these products for sale, good manufacturing practices recommend you wear a hairnet, gloves and a mask. We also recommend a clean apron and workspace.
Using a double boiler, melt 7 ounces of cocoa butter. Keep on low so butter stays melted.
In a separate bowl, measure 1/2 cup plus 1 tablespoon of sugar. Add 1/4 teaspoon of first powdered colorant. (Note: When making green confetti sprinkles, use 1/4 tsp. of both the NuTone Navy and the Neon Yellow Electric Slide powders.) Mix completely making sure to break up any clumps of color.
Measure 1.4 oz. of melted cocoa butter and add to the bowl of colored sugar. Add 3 ml of Cake Batter Ice Cream Fragrance Oil.
Work cocoa butter and fragrance oil into colored sugar until completely incorporated.
Line a jelly roll pan with plastic wrap and place both round silicone lip tube filling trays on top of the plastic wrap.
While butter/sugar mixture is still warm, spoon onto the lip tube filling trays dividing evenly between both molds.
Begin spreading the mixture into the mold openings using a spatula. Once the mixture is completely spread out, pack down into the mold openings using the back of a spoon.
Allow the mixture to harden completely and then unmold by pushing the product out of the mold with your fingers.
Repeat recipe using the next color until all 5 colors have been made.
To fill jars, place empty jar on a scale and tare to zero. Fill with colored sprinkles until weight of jar reaches 4.5 ounces. This should equal approximately 90 pieces per jar. Place cap on jar and finish with ribbon.
Label product accordingly.
To Use: Sprinkle about 10 bath confetti pieces under warm running water. Relax and enjoy!
Ingredient Label:
Sugar, Cocoa Butter, Fragrance, Fluorphlogopite, Titanium Dioxide,Tin Dioxide, Manganese Violet, Polyester-3, Yellow 5, Red 28.