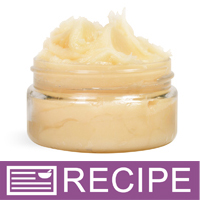 (Enlarge Image)
NOTE: If you are making these products for sale, good manufacturing practices recommend you wear a hairnet, gloves and a mask. We also recommend a clean apron and workspace.
In a pot for a double boiler, add Beeswax, Vitamin E, Rice Bran Oil, Wheat Germ Oil and Meadowfoam Seed Oil.
Heat all oils and beeswax in double boiler until beeswax is completely melted.
Meanwhile, prepare an ice water bath by pouring 2 cups of cold water and ice into one of the large glass bowls.
Once beeswax has melted, transfer to the second bowl and place in the ice water bath.
Stir melted oil/wax with heat safe spatula until a paste forms. The mixture will thicken to a Vaseline-like texture.
Fill jars with product either by spooning mixture into the jars or by using a Zip close bag to pipe the cream into your jars. This gives it a nice finished look to your product. Apply lids to jars.
Label accordingly.
To Use: Rub into skin to soften calluses or relieve dry, cracked skin.
Ingredient Label:
Wheat Germ Oil, Vitamin E, Rice Bran Oil, Beeswax, Meadowfoam Seed Oil.