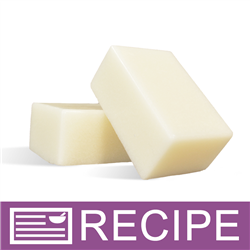 (Enlarge Image)
NOTE: If you are making these products for sale, good manufacturing practices recommend you wear a hairnet, gloves and a mask. We also recommend a clean apron.
We recommend making in two batches because it is easier to pour and to keep the soap liquid enough to pour into the mold. Once the sugar is added, the soap thickens up very quickly.
Weigh and cut up 16 oz. of Premium Goat Milk MP Soap Base. Place into a large glass measuring cup and heat in microwave until the soap has completely melted.
Add 2 oz. of Avocado Oil and mix in.
Allow soap to cool down to around 130°F then gently stir in 1 1/2 cups of granulated sugar. If the soap is too hot, it will dissolve the sugar.
In a plastic beaker, mix 0.375 oz. Cardamom True Sugar fragrance with 0.187 vanilla stabilizer. Mix and let sit for 2 minutes.
Add fragrance mixture to soap and blend well.
Divide mixture between six of the mold cavities, stirring soap between each pour so that the sugar stays suspended throughout the soap. If soap hardens up, heat briefly in microwave just until soap is soft enough to stir.
Repeat above steps to make the second batch of soaps. Let soaps harden.
Remove soaps from the mold. Each bar should weigh approximately 4.55 ounces.
To help these bars last longer, be sure to place in a soap dish that drains. Do not leave in the shower where it may sit in water. This will cause the soap to dissolve more quickly.
Package in airtight packaging and label your soap accordingly.
To Use: Lather onto wet skin and gently massage. Rinse off with warm water.
Ingredient Label:
Sugar, Sorbitol, Propylene Glycol, Sodium Laureth Sulfate, Stearic Acid, Avocado Oil, Water, Sodium Hydroxide, Myristic Acid, Lauric Acid, Goat Milk, Fragance, Yellow 5, Titanium Dioxide.