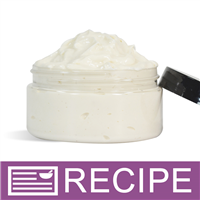 (Enlarge Image)
NOTE: If you are making these products for sale, good manufacturing practices recommend you wear a hairnet, gloves and a mask. We also recommend a clean apron and workspace.
Bring champagne to a boil, then simmer for 10 minutes. Allow to cool completely. This will remove any alcohol content in the champagne. Any brand of champagne is fine to use. You may lose some of the champagne while simmering. You will need 6 oz. for the recipe so this will allow for any burn off.
Add emulsifying wax, stearic acid, olive oil and grape seed oil to measuring cup and heat in microwave until wax has melted.
Add cranberry butter and stir until melted.
Add warm water and 6 oz. of champagne from earlier to large measuring cup.
Pour wax/oil mixture into the water/champagne. (Mixture will turn white and get clumpy.)
Stick blend until lotion starts to thicken and then add isopropyl myristate, Vitamin E, fragrance and gold mica powder and continue to blend until lotion is desired texture.
When lotion is 140°F or below, add Germaben II and blend.
Fill each jar to 7 oz. by weight. Any remaining product can be divided equally.
Allow to cool completely then place lids on jars.
Label product accordingly.
To Use: Massage onto skin as often as needed.
Ingredient Label:
Water, Champagne, Olive Oil, Emulsifying Wax, Grapeseed Oil, Cranberry Butter, Stearic Acid, Fragrance, Isopropyl Myristate, Vitamin E, Germaben.