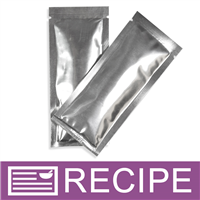 (Enlarge Image)
NOTE: If you are making these products for sale, good manufacturing practices recommend you wear a hairnet, gloves and a mask. We also recommend a clean apron and workspace.
To a large mixing bowl, add all ingredients.
Mix with a wire whisk to blend all powders. If there are any clumps, try to break them up with the whisk.
Turn iron or flat iron on to medium heat.
Fill each heat seal packet with one tablespoon of mixture.
Seal the end of each bag with the iron or by using a flat hair straightener.
Add label and package as desired.
To Use: Empty pouch ingredients into a small bowl. Add 3 Tablespoons of water. (You may also use honey, any non-pore clogging oil such as Sweet Almond or Argan Oil, egg whites or milk.) Mix together to make a paste. Spread mask on face avoiding eye area. Sit back and relax until mask dries and hardens. Wash off with warm water (or liquid soap) and pat dry with towel.
Ingredient Label:
Cocoa, Kaolin, Oat Flour, Yogurt Powder