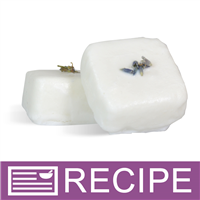 (Enlarge Image)
NOTE: If you are making these products for sale, good manufacturing practices recommend you wear a hairnet, gloves and a mask. We also recommend a clean apron.
To double boiler or metal pot on stove, add cocoa butter and heat until completely melted.
While butter is melting, measure out sugar and place in a large bowl.
Remove melted butter from heat source and let cool.
Add 8 ml of Chocolate Lavender Fragrance Oil and blend well.
When cocoa butter has cooled down to around 120°F, combine the butter and the sugar.
Mix with a spatula or spoon until ingredients are blended completely.
Place the silicone molds on cookie sheets to give them stability when they are moved.
Fill each cavity with the butter/sugar mixture making sure they are packed tightly and smooth out the tops.
Place in the freezer for about 20 minutes. They can also be placed in the refrigerator if a freezer is not available.
Remove bath melts from molds and place on cookie sheets.
To a microwave-safe measuring cup add 8 oz. cut up white soap base. Place in glass measuring cup and heat in microwave in 30 second increments until melted.Remove and stir to be sure no solid soap remains.
Once soap has cooled down to around 140°F, quickly dip or dunk each bath melt into the melted soap using a fork or candy dipping tool. Place cube back on cookie sheet.
Quickly spritz the top of the bath melt with alcohol to pop any surface bubbles, then sprinkle a small amount of lavender buds onto the middle of cube. Repeat for all cubes.
Let soap completely harden by placing back in the refrigerator or freezer for about 10 minutes.
Remove each bath melt using a metal spatula. Remove any excess soap from around the bottom of the melts or underneath so they are flat.
We recommend packaging 4 each in a cello bag and tying with raffia.
Label according.
WARNING: Be sure to add a warning to your label that this will make your tub slippery. Be sure to use a rubber bath mat on bottom of the tub
.
To Use: Drop one cube into tub of warm water. Cube will gently melt and release cocoa butter throughout bath.
Ingredient Label:
Sugar, Cocoa Seed Butter, Sorbitol, Propylene Glycol, Sodium Laureth Sulfate, Stearic Acid, Lauric Acid, Water, Sodium Hydroxide, Glycerin, Titanium Dioxide, Fragrance, Lavender Flower.