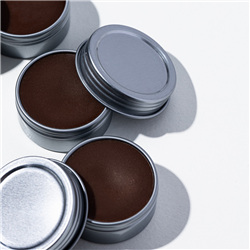 (Enlarge Image)
NOTE: If you are making these products for sale, good manufacturing practices recommend you wear a hairnet, gloves and a mask. We also recommend a clean apron and workspace.
To metal pot or double boiler, add Cocoa Butter, Beeswax, Grape Seed and Castor Oil. Heat on low until melted.
Add Honey Powder and Cocoa Powder and whisk until completely blended.
Add Vitamin E and Essential Oil and stir.
Fill each shallow tin to 0.30 oz. Let harden before adding lids.
Label product accordingly.
To Use:
Apply onto lips as often as desired.
Ingredient Label:
Cocoa Butter, Grape Seed Oil, Castor Oil, Beeswax, Honey Powder, Cocoa Powder, Vitamin E, Orange Essential Oil.