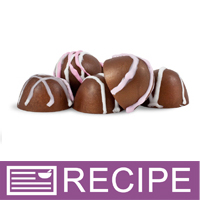 (Enlarge Image)
NOTE: If you are making these products for sale, good manufacturing practices recommend you wear a hairnet, gloves and a mask. We also recommend a clean apron.
Place cake pop mold on a cookie sheet to give the mold stability.
To a microwave-safe measuring cup, add 6 oz. of cut up Clear Soap. Add one-fourth of the Brown Color Block. Heat soap in microwave until soap and color have melted.
Add 3.5 ml Chocolate Drizzle fragrance oil and 1/4 tsp. of Chocolate Brown Mica Powder. Stir well.
Pour soap into cake pop mold filling each cavity about half way (0.75 oz. each). Let soap set up.
Carefully remove from mold and set aside.
If making all 40 truffles, repeat above steps 4 additional times.
To 2 plastic beakers, add 2 oz. of white soap to each. Heat in microwave in 15 second intervals until melted.
To one beaker add 2-3 drops of Stained Glass Santa Red color and mix. The other will remain white.
Cover either a counter top or a cookie sheet with waxed paper. Place chocolate truffles on top of waxed paper.
Drizzle color over each truffle, using one or both the white soap and the pink. If soap seems too thin when poured, let soap cool slightly and thicken to make pouring easier.
You can also drizzle some clear soap over the top then sprinkle coarse spa salt with color added.
To package, place 5 truffles in a clear cello bag. Fold over excess bag and tape to back. Then place cello bag into a pink organza bag.
Label product accordingly. Be sure to add warning label: SOAP - DO NOT EAT!
To Use: Lather onto wet skin and rinse with warm water.
Ingredient Label:
Sorbitol, Propylene Glycol, Sodium Laureth Sulfate, Stearic Acid, Lauric Acid, Water, Sodium Hydroxide, Glycerin, Titanium Dioxide, Iron Oxides, Red 33, Red 40, Mica, Tin Oxide.