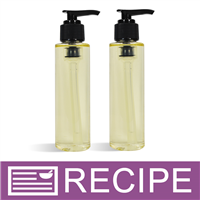 (Enlarge Image)
NOTE: If you are making these products for sale, good manufacturing practices recommend you wear a hairnet, gloves and a mask. We also recommend a clean apron and workspace.
Into glass measuring cup, add all ingredients. Mix well with a spoon or spatula.
Trim dip tubes on pump tops to the appropriate length for the bottles and set aside.
Fill each bottle to 4 oz. by weight. Wipe any excess oils from the outside and then place tops on bottles.
Label accordingly.
To Use:
Wet hands and gently massage product onto face. Rinse thoroughly; pat dry with towel. To thoroughly remove long-wearing makeup, repeat this process.
Warning:
Keep out of eyes. Do not ingest.
Ingredient Label:
Medium Chain Triglycerides, Sunflower Oil, Safflower Oil, Olive Oil, Vitamin E, Fragrance.