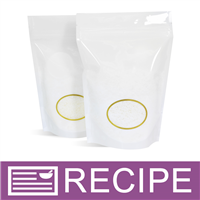 (Enlarge Image)
FIRST PART OF RECIPE - Making CP Bars. If you already have (4) approximately 4-5 oz. bars of cold process soap, skip to Step 12.
NOTE: This project and these instructions have been written for someone who has experience making soap and knows the potential dangers due to working with sodium hydroxide. It will not outline all safety methods of working with dangerous chemicals, it is simply a soap recipe for advanced soapmakers.
To a polypropylene pitcher add distilled water. To a polypropylene measuring cup, weigh sodium hydroxide. Pour the lye into the water, carefully mix in a well-ventilated area and set aside to cool while you prepare your oils.
Weigh the Coconut 76° Oil and add to a metal pot. Heat on low over stove top until it has melted.
When the oil and lye/water are both approximately 110°F, pour lye/water mixture slowly into the melted oils/butters. Start mixing with stick blender.
At light trace, add 0.90 oz. of Coastal Cottage Fragrance Oil and blend lightly.
Pour soap into Short Loaf Silicone Mold. (When we tested, this soap heated up very quickly. We would recommend placing mold in the refrigerator.)
Let soap set in mold overnight. If it sticks to the sides of the silicone mold, let set for an additional 24 hours before unmolding.
Unmold soap and slice. Let cure for 4-6 weeks.
SECOND PART OF RECIPE:
Finely grate (4) 4-5 oz. bars of CP soap and set aside.
Measure 27 oz. of Sodium Borate and 28.6 oz. of Sodium Carbonate and mix into the grated soap.
Working in small portions (about 2-3 cups at a time), put mixture through a food processor. This helps to get the soap into smaller pieces that will dissolve more easily.
When the entire mixture has been processed, fill each bag to approximately 8.75 oz. Depending on the size of your CP bars before grating, you may have extra product after filling the 9 bags. This can either be divided up between the bags or used for samples.
Insert a scoop and seal and label the bag.
To Use: Use 1 Tbsp. per load. If extra large or soiled load, use 2-3 Tbsp. If using cold water, try to dissolve the soap in water before adding clothes. NOTE: This recipe is a low-suds detergent and should be safe for HE (High Efficiency) machines, but check with the instructions that came with your machine to make sure before using.
Ingredient Label:
Sodium Borate, Sodium Carbonate, Cocos Nucifera (Coconut) Oil, Water, Sodium Hydroxide, Fragrance.