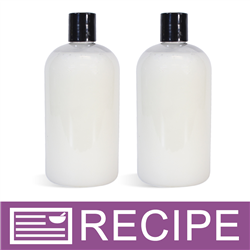 (Enlarge Image)
In a large glass bowl or measuring cup, empty 64 oz of Liquid Suspension Soap Base.
Mix in 2 oz of Bubble Wash Pearlizer.
In plastic beaker, mix 1 oz Shea & Coconut Fragrance with 0.50 oz Vanilla Color Stabilizer. Let sit for 2 minutes.
In a small mixing bowl, add fragrance mixture to 1 oz Polysorbate 80.
Add 0.50 oz Coconut Milk Powder to fragrance mixture and stir or whisk until powder is well incorporated and free of clumps
Stir in 0.35 oz Preservative and mix.
Add the mixture to the liquid soap base in larger bowl. Gently stir to incorporate ingredients.
Fill 4 bottles with 16 oz by weight. Pour any remaining mixture between bottles and apply caps.
Repeat steps 1-8 to fill remaining 4 bottles.
Label product accordingly.
To Use as Body Wash: Massage onto wet skin. Rinse with warm water.
To Use as Bubble Bath: Pour into running water and relax in the tub.
Ingredient Label:
Water, Ammonium Lauryl Sulfate, Glycerin, Disodium Cocamido MIPA Sulfosuccinate, Cocamidopropyl Betaine, Propylene Glycol, Acrylates/C10-30 Alkyl Acrylate Crosspolymer, Disodium DMDM Hydantoin, Sodium Laureth Sulfate (and) Glycol Distearate (and) Cocamide MEA (and) Laureth-10, Fragrance, Dehydrated Coconut Milk, Maltodextrin and Milk Protein, Polysorbate 80, Propylene Glycol (and) Diazolidinyl Urea (and) Iodopropynyl Butylcarbamate