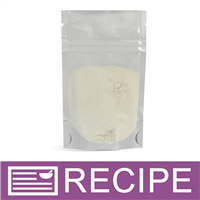 (Enlarge Image)
NOTE: If you are making these products for sale, good manufacturing practices recommend you wear a hairnet, gloves and a mask. We also recommend a clean apron and workspace.
Add bentonite clay, colloidal oatmeal, coconut milk powder, aloe vera powder and jojoba beads to bowl and mix with whisk.
Fill each bag with 0.75 oz. by weight and zip close.
Heat seal tops of bags using iron or hair straightener.
Label product accordingly.
To Use:
Mix one teaspoon of powder with water to form a paste. Spread mask on face avoiding eye area. Sit back and relax until mask dries and hardens. Wash off with warm water and pat dry.
Ingredient Label:
Bentonite Clay, Colloidal Oatmeal, Coconut Milk, Jojoba Wax, Titanium Dioxide, Aloe Vera Powder.