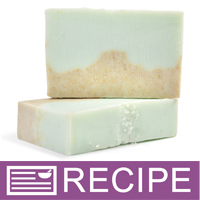 (Enlarge Image)
NOTE: If you are making these products for sale, good manufacturing practices recommend you wear a hairnet, gloves and a mask. We also recommend a clean apron and workspace.
Place the silicone loaf mold on a cookie sheet. This will give the mold stability should it need to be moved.
To large microwave-safe measuring cup, add 40 oz. of cut up soap. Heat in microwave in 30 second increments until melted.
In a small beaker or container, measure 1.20 oz. of fragrance oil and 0.60 oz. of Vanilla Color Stabilizer. Mix together and allow to sit for 2 minutes.
Add fragrance/stabilizer mixture to melted soap. Stir or gently whisk until well-blended into melted soap.
Add 7 drops of Sea Blue-Green Liquid Color and 5 drops of Forest Green Liquid Color. Mix well.
Place a container with pour spout on top of a digital scale and tare to zero. Pour 16 oz. of colored soap into container. Add 8 Tbsp. of luffa powder and mix well. Pour into loaf mold and let set up. Cover remaining melted soap.
We allowed the poured soap to start to harden. Using a spatula, we then shaped this soap so that it had a more uneven top.
Spritz soap in mold with rubbing alcohol and cover with remaining soap. Remelt if soap has hardened. Allow this to form a thin skin then top with Bath Water Crystals. Let soap harden.
Slice and package in airtight wrap.
Label soap accordingly.
To Use: Lather onto wet skin.
Ingredient Label:
Sorbitol, Coconut Oil, Propylene Glycol, Stearic Acid, Water, Sodium Hydroxide, Glycerin, Coconut Milk, Luffa, Titanium Dioxide, Fragrance, Green 5, Yellow 5, Sodium Chloride.