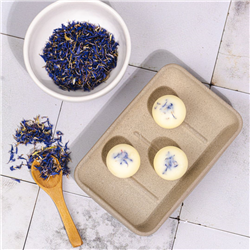 (Enlarge Image)
NOTE: If you are making these products for sale, good manufacturing practices recommend you wear a hairnet, gloves and a mask. We also recommend a clean apron and workspace.
To pan for double boiler or stove top, add Cocoa Butter and Jojoba Butter and heat until melted. Turn off heat.
Add Polysorbate 80, fragrance oil and Cornflower Petals and stir.
Remove from stove and let mixture cool for about 20 minutes. Stir before pouring to blend in the Cornflower Petals.
Place silicone molds on a jelly roll pan to give it stability.
Fill each cavity with mixture being sure to fill to the top. Stir a few times during the pour to keep cornflowers blended in.
Place molds into the freezer to completely harden. This may take 2-3 hours to set up.
Remove from mold and set out on wax paper to return to room temperature.
To package, we used the White Arched Lip Tube Diplay Boxes. Cut the top flap off the box and line the bottom with either wax paper or parchment paper. Place 6 bath melts into the box. If you prefer, cover the top of the box with saran wrap. Place box into the 5" x 3" x 11.5" cello bag and tie the top of the bag with raffia to finish it off. There may be one bath melt remaining which can be used for a sample.
NOTE: Bath melts are soft and can melt in warmer temperatures. If selling in warmer climates at a show, we recommend keeping the melts in a cooler and having a sample out on your table.
ADDITIONAL NOTE: Bath melts can make your tub slippery. Please put a note on your label to be sure to use a bath mat in the tub.
To Use: Drop one melt into warm water and soak in melted butters.
Ingredient Label:
Cocoa Butter, Jojoba Butter, Polysorbate 80, Cornflower Flowers, Fragrance.