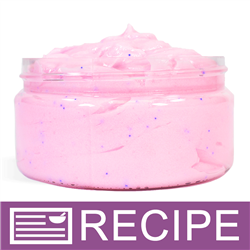 (Enlarge Image)
NOTE: If you are making these products for sale, good manufacturing practices recommend you wear a hairnet, gloves and a mask. We also recommend a clean apron and workspace.
On a burner over low heat, or in a double boiler, heat the emulsifying wax, stearic acid, shea butter, cocoa butter, apricot and grape seed oils until completely melted.
Place pan in fridge or freezer until the edges start to harden against the pan and a layer begins to form on top.
Using a hand mixer with a whisk attachment, whisk mixture until it turns creamy and opaque.
Add Vitamin E, fragrance oil and preservative. Mix well.
Empty mixture into a larger bowl to mix in sugar.
Slowly add sugar while continuing to whip.
Add 1/8 tsp. of Pink Powder and mix in with spoon or spatula. Briefly whip with mixer.
Fill jars to 7 oz. by weight. Apply lids.
Label product accordingly.
We have included a template to print labels for your jars: https://www.wholesalesuppliesplus.com/PDFs/Labels/Cotton-Candy-Labels.pdf
To Use: Massage scrub onto wet skin. Rinse off with warm water
* Original recipe contained blue Jojoba Beads, These were discontinued so were removed from recipe. (6/2020)
Ingredient Label:
Sugar, Apricot Kernel Oil, Grape Seed Oil, Emulsifying Wax, Shea Butter, Stearic Acid, Cocoa Butter, Fragrance, Phenoxyethanol, Methylparaben, Ethylparaben, Butylparaben, Propylparaben, Isobutylparaben, Vitamin E, Mica, Titanium Dioxide, Tin Oxide, Iron Oxide.