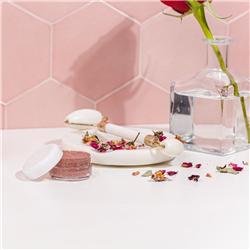 (Enlarge Image)
NOTE: If you are making these products for sale, good manufacturing practices recommend you wear a hairnet, gloves and a mask. We also recommend a clean apron and workspace.
This recipe makes 6 rose colored jars and 6 neutral colored jars.
To a heat-safe pan, add 0.80 oz. Shea Butter and 0.40 oz. Emulsifying Wax. Heat on low until wax has melted.
Remove from heat and let cool slightly.
Add 1.80 oz. Aloe Vera Gel and slowly blend into melted ingredients. If butter/wax are too hot, the Aloe Vera Gel will clump up and turn to jelly. The Aloe Vera Gel will melt into the butter/wax mixture and turn white.
Once the products are mixed and creamy, add 1/2 tsp. of Sexy Pink Slippers Mica Powder and 1/4 tsp. of Fruit Punch Mica Powder. Whip until flluffy.
If the mixture should clump and look gritty, place the pan on very low heat to warm slightly and then rewhip the product.
Fill (6) 1/3 oz. jars to approximately 0.40 oz. If there is extra product, divide between the jars.
Repeat Steps 2-4 to make the crimsom cream blush.
Once all ingredients have been melted and mixed, add 1/4 tsp. of Crimson Red Wine Mica Powder and 1/8 tsp. of Gingerbread Brown Mica Powder and mix well.
Fill the remaining 6 jars with this crimson mixture.
Place lids on jars and label accordingly.
TO USE: Dab a small amount of cream blush on cheekbones. Blend in with fingertips. Try not to rub too hard into the skin as the color will disappear.
Ingredient Label:
Water, Shea Butter, Aloe Barbadensis Leaf Juice, Glycerin, Emulsifying Wax, Carbomer, Triethanolamine, Iodopropynyl Butylcarbamate, Diazolidinyl Urea, Mica, Titanium Dioxide, Iron Oxide, Silica, Fluorphlogopite.