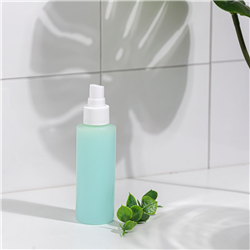 (Enlarge Image)
NOTE: If you are making these products for sale, good manufacturing practices recommend you wear a hairnet, gloves and a mask. We also recommend a clean apron, workspace and sanitized equipment.
To a container with a spout, add the 16 ounces Luxury Moisturizing Mist .
Add the green tea extract and the aloe vera extract to the mist and stir.
Next, add the fragrance and stir.
Add 1 drop of blue colorant and drops of yellow until you are satisfied with the color.
Pour 4 ounces into each bottle and split the remainder between the bottles.
Cut dip tubes to length and apply caps.
Label product accordingly.
To use: Spray on face or hair when needed.
Ingredient Label:
Water, Octoxynol-13, Nonoxynol-12, Propylene Glycol, Glycerin, Methylchloroisothiazolinone, Methylisothiazolinone, Green Tea Extract, Water (and) Glycerin (and) Aloe Barbadensis Leaf Juice (and) Citric Acid, Fragrance, Tetrasodium Methylparaben, Propylparaben, Blue 1, Green 8.