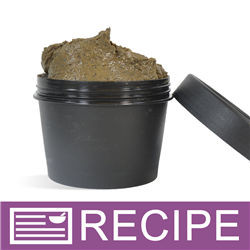 (Enlarge Image)
NOTE: If you are making these products for sale, good manufacturing practices recommend you wear a hairnet, gloves and a mask. We also recommend a clean apron, workspace and sanitized equipment.
To a metal pot, add Brewed Coffee, Glycerin, Olive Oil and Caffeine Extract.
To a small mixing bowl, add Bentonite Clay, Kaolin and Cocoa Powder. Blend with a wire whisk.
Slowly add powder into liquid, stirring with a wire whisk. Mixture will be clumpy.
Place pot over very low heat, stirring constantly, until product is smooth. Be sure not to get mixture too hot so scrub does not smell like burnt coffee.
Stir in fine-medium ground coffee. You can use coffee grounds straight out of the can or grind your own. Depending on how scrubby you want your product, will determine if you use finely ground or medium ground coffee.
Lastly, stir in preservative until well blended.
Fill jars to approximately 4.25 oz. and apply lids.
Label product accordingly.
To Use: Gently smooth mask over skin wherever desired. Leave on for 10-15 minutes. Add a little warm water and gently massage into skin before rinsing off.
Ingredient Label:
Brewed Coffee, Bentonite, Glycerin, Coffee Grounds, Kaolin, Caffeine Extract, Olive Fruit Oil, Cocoa Powder, Propylene Glycol, Diazolidinyl Urea, Iodopropynyl Butylcarbamate.