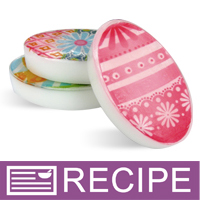 (Enlarge Image)
NOTE: If you are making these products for sale, good manufacturing practices recommend you wear a hairnet and gloves. We also recommend a clean apron, workspace and sanitized equipment.
Using the template in the Learning Library, print your "eggs" for the soap on the embed paper. Either an inkjet or laser printer will work. We recommend testing with regular paper first before using the embed paper. Here is the link: https://www.wholesalesuppliesplus.com/PDFs/Easter_Eggs_For_Embed_Paper.pdf
Cut out shapes from embed paper and set aside.
Set silicone mold on cookie sheet for stability.
Melt 6 oz. of clear soap. Spritz inside of each cavity with rubbing alcohol. Pour a thin layer of clear into one cavity and immediately place paper egg down into soap. Gently press down on embed so it is completely immersed in the soap. Add more soap if needed. Spritz lightly with rubbing alcohol.
Repeat until all cavities have embeds. Let harden.
To a large microwave-safe mixing bowl, add 16 oz. of cut up white soap plus 2 oz. of cut up clear soap. Heat in microwave until melted.
Add 0.50 oz. of fragrance oil to soap. Mix well.
Spritz soap in each cavity generously with rubbing alcohol. Pour soap into all 9 cavities filling to the top.
Spritz with alcohol. Let soap harden.
Unmold soaps, wrap as desired and label product accordingly.
Repeat to make remaining 9 bars.
Packaging Suggestions: Wrap in simple plastic food wrap. Pull tightly around bar. Cut any excess from the back and attach label. If desired, tie with thin ribbon.
To Use: Lather onto wet hands and rinse with warm water.
Ingredient Label:
Sorbitol, Propylene Glycol, Sodium Laureth Sulfate, Stearic Acid, Water, Sodium Hydroxide, Myristic Acid, Lauric Acid, Shea Butter, Titanium Dioxide, Fragrance.