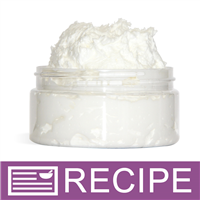 (Enlarge Image)
NOTE: If you are making these products for sale, good manufacturing practices recommend that you wear a hairnet, gloves and a mask. We also recommend a clean apron and workspace.
To a microwave-safe container, add the shea butter and coconut oil. Using a spoon, break up the shea butter into smaller chunks. If coconut oil is solid, place bottle in hot water bath until liquid.
Heat in microwave for 1 minute to soften the shea butter. It should not be melted.
Place shea butter and coconut oil into the stand-mixing bowl. (If a stand mixer is not available, a hand mixer can be used.) Add Vitamin E and Peppermint Essential Oil.
Mix on high for about 10 minutes. The volume will double in size. Turn off and scrape every 5 minutes until light and fluffy.
To package, fill jars to 4 ounces by weight. Do not use a piping bag as this will flatten the mixture by squeezing the air out of the whipped product.
Wipe container sides with alcohol wipes to remove any excess product and apply the lids.
Label product accordingly.
To Use: Rub into skin as needed.
Ingredient Label:
Shea Butter, Coconut Oil, Essential Oil, Vitamin E.