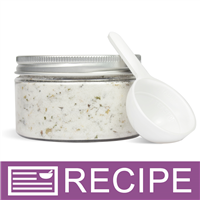 (Enlarge Image)
NOTE: If you are making these products for sale, good manufacturing practices recommend you wear a hairnet, gloves and a mask. We also recommend a clean apron and workspace.
To a large mixing bowl add citric acid, baking soda and coconut milk powder. Blend with a wire whisk.
Slowly add in Lathanol powder. (We recommend using a mask when working with this product. It is a very fine powder and becomes airborne very quickly.)
Sprinkle fragrance oil around the powder mixture. Do not add fragrance into just one spot. Mix well with wire whisk until it is all blended in.
If necessary, use a sifter to remove any clumping that may have occured.
Lay powder mixture out onto a large cookie sheet for product to completely dry, preferably overnight.
Once dry, weigh out the bath tea and add to powder mixture. Blend thoroughly.
Fill jars to 3.3 oz. by weight. Place a white scoop inside each jar and screw on silver metal cap.
Label product accordingly.
To Use: Sprinkle 1-2 scoops into bath water and enjoy!
Ingredient Label:
Baking Soda, Citric Acid, Sodium Lauryl Sulfoacetate, Coconut Milk, Rosemary Leaf, Peppermint Leaf, Spearmint Leaf, Sage Leaf, Fragrance.