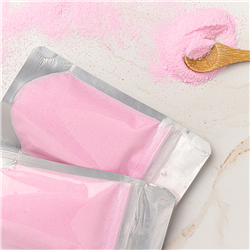 (Enlarge Image)
NOTE:
If you are making these products for sale, good manufacturing practices recommend you wear a hairnet, gloves and a mask. We also recommend a clean apron and workspace.
(We recommend using a mask when working with lathanol powder. It is a very fine powder and becomes airborne very quickly.)
To large mixing bowl, add baking soda, citric acid, and lathanol powder. Break up any clumps with wire whisk.
Mix in buttermilk powder.
Drizzle fragrance over powders and blend in well.
Add pink powder and blend until powder is all one color.
Using plastic funnel, fill each bag with 3 oz. of product. Seal closed with flat iron.
Place a tiny pinhole in each bag to release any gases that will build up.This is a natural occurence when mixing the dry powders.
Label product accordingly.
To Use:
Sprinkle desired amount of powder into bath under running water.
Ingredient Label:
Baking Soda, Citric Acid, Sodium Lauryl Sulfoacetate, Buttermilk, Fragrance, Red 28, Red 22.