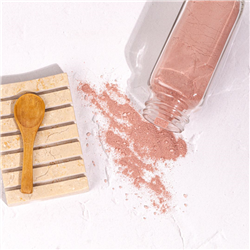 (Enlarge Image)
NOTE: If you are making these products for sale, good manufacturing practices recommend you wear a hairnet, gloves and a mask. We also recommend a clean apron and workspace.
To a mixing bowl, add dendritic salt.
Drizzle the Chamomile & Lavender EO/FO Blend over the salt. With a whisk, blend until salt completely mixes with essential oil. Set aside.
In large mixing bowl, add buttermilk powder, epsom salt, baking soda and rose kaolin clay.
Blend ingredients together with whisk. If any white chunks are visible, break up with whisk or gloved hands.
We recommend wearing a mask for this step. Carefully add Lathanol LAL Powder to mixture. Stir slowly with wire whisk until well blended.
Add dendritic salt from Step 1. Mix well into larger batch.
Using a funnel, carefully fill bottles with mixture with about 6.4 oz of product.
Label product accordingly.
TO USE: Pour 1-2 capfuls under running water.
Caution: Use only as directed. Excessive use or prolonged exposure may irritate skin and urinary tract. Discontinue use if rash, redness, or itching occurs. Consult your physician if irritation persists. Keep out of reach of children.
Ingredient Label:
Epsom Salts, Buttermilk, Sodium Lauryl Sulfoacetate, Baking Soda, Sodium Chloride, Kaolin, Fragrance.