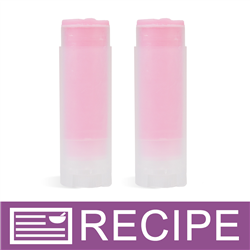 (Enlarge Image)
NOTE: If you are making these products for sale, good manufacturing practices recommend you wear a hairnet, gloves and a mask. We also recommend a clean apron and workspace.
To a double boiler or small melter/crock pot, add beeswax and MCT oil. Heat on low until liquid.
Add shea butter and let melt into warm liquid.
Add 2 ml of fragrance oil, mica powder and stir.
Let product cool to under 150°F. Using a plastic dropper, carefully fill tubes with product. If any fragrance balm remains, this can be remelted and used to top off the tubes if any sink holes appear.
Once balm has completely cooled, apply caps.
Label product accordingly.
To Use: Rub fragrance balm onto skin as desired.
Ingredient Label:
Beeswax, Shea Butter, Medium Chain Triglycerides, Fragrance, Mica, Titanium Dioxide, Iron Oxide.