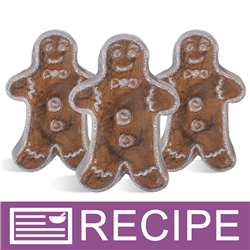 (Enlarge Image)
NOTE: If you are making these products for sale, good manufacturing practices recommend you wear a hairnet, gloves and a mask. We also recommend a clean apron and workspace.
In plastic beaker, add 2 oz. of cut up clear soap base. Heat in microwave for 20 seconds or until melted.
Add 1/2 teaspoon of the ultra sparkle white mica powder. Mix well.
Spritz the inside of plastic mold with alcohol. Using the plastic dropper, pipe the white soap into the outline, face and zig-zag on arms and legs. Once soap hardens, more soap can be piped in to make a deeper color. If adding more color, spritz with alcohol before applying soap.
If soap starts to harden, remelt briefly in microwave. To prevent soap from hardening in the dropper, place in cup of hot water when not in use. Be sure to squeeze any excess water from dropper before using. When finished, set remaining soap aside.
In plastic beaker, add 0.30 oz. fragrance mixed with 0.30 oz. stabilizer. Mix and let sit for two minutes.
Cut up 10 oz. of clear soap and place in microwave-safe measuring cup. Add 0.15 oz. of brown color block and heat in microwave until melted.
Add fragrance mixture to soap and mix well.
Spritz the white soap inside the mold generously with rubbing alcohol.
When liquid brown soap cools to 125-130º F, carefully pour into each mold cavity.
Lightly mist the top of the melted soap with rubbing alcohol and let soap harden.
If soap is hard to unmold, place mold in freezer for 30 minutes. Remove from fridge and let sit on counter for 5 minutes. Press gently on mold to remove soaps.
If desired, repeat above steps to make second set of soaps. Leftover white soap can be remelted if soap remains.
Wrap soaps in plastic wrap or other airtight packaging.
Label product accordingly.
To Use: Lather onto wet skin and rinse with warm water.
Ingredient Label:
Sorbitol, Propylene Glycol, Sodium Laureth Sulfate, Stearic Acid, Myristic Acid, Water, Sodium Hydroxide, Sodium Cocoyl Isethionate, Fragrance, Mica, Titanium Dioxide, Tin Oxide, Synthetic Fluorphlogopite, Titanium Oxide.