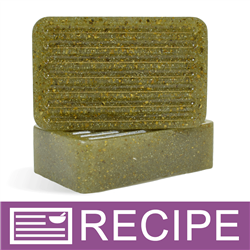 (Enlarge Image)
NOTE: If you are making these products for sale, good manufacturing practices recommend you wear a hairnet, gloves and a mask. We also recommend a clean apron and workspace.
To a microwave-safe measuring cup, add 16 oz. cut up Aloe & Olive soap base. Heat in microwave until melted.
Add 0.40 oz. Green Zeolite Clay and 0.30 oz. Kelp Granules. Stir with wire whisk.
Add 0.25 oz. Pink Grapefruit essential oil and stir.
Let soap cool to 120° F while stirring occasionally.
Place silicone mold on scale and tare to zero. Stir, then pour 4 oz. of soap into each cavity. Spritz with alcohol and let soap set up.
Remove from mold and set aside.
Repeat above steps to make additional four bars.
Wrap in plastic wrap or other airtight packaging of choice.
Label product accordingly.
To Use: Apply to wet skin gently massaging to exfoliate. Rinse with warm water.
Ingredient Label:
Sorbitol, Coconut Oil, Propylene Glycol, Stearic Acid, Water, Sodium Hydroxide, Glycerin, Olive Oil, Aloe Vera, Zeolite Clay, Kelp, Essential Oil, Yellow 5, Green 5.