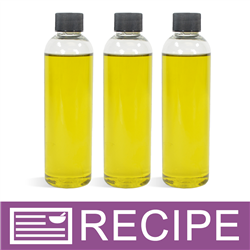 (Enlarge Image)
NOTE: If you are making these products for sale, good manufacturing practices recommend you wear a hairnet, gloves and a mask. We also recommend a clean apron, workspace and sanitized equipment.
To a container with pour spout, add all ingredients. Mix well.
If desired, add up to 0.80 ounces of CBD oil and blend.
Pour into bottles dividing product evenly.
Place orifice reducer into bottle then apply cap.
Label product accordingly.
To Use: Massage onto skin as desired.
Ingredient Label:
Medium Chain Triglycerides, Hemp Seed Oil, Jojoba Oil, Argan Oil, (CBD if added), Fragrance, Vitamin E.