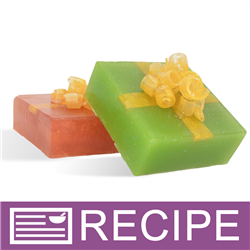 (Enlarge Image)
NOTE: If you are making these products for sale, good manufacturing practices recommend you wear a hairnet, gloves and a mask. We also recommend a clean apron and workspace.
In small glass container, mix 2.20 oz. of fragrance oil with 1.10 oz. Vanilla Color Stabilizer. Mix well and set aside.
To a microwave-safe measuring cup, add 4 oz. cut up clear soap. Add 1/4 of Gold color block. Heat in microwave until melted.
Into 4 mold cavities, pour .50 oz. soap each. Pour remaining soap into one cavity. Spritz with alcohol to dissolve surface bubbles. Allow soap to set up.
Once hardened, unmold the squares setting aside the thicker piece. Cut each of the four soap squares into 6 separate strips for the ribbons.
Take 2 of the gold strips and place one on top of the other to make a "+". Cut off strip where it overlaps in the middle so they will fit in the cavity without overlapping.
Continue until all ribbons are cut. There will be enough for all 12 gift box soaps.
To a microwave-safe measuring cup, add 5 oz. of cut up Crystal Clear MP Soap. Heat in microwave until melted. Do not fragrance.
Pour small amount of clear into first cavity-just enough to cover the bottom. Spritz with alcohol, then spritz two ribbons and immediately place into clear soap in bottom of cavity. Be sure to position them so they are in the middle. Spritz again with alcohol when ribbons are positioned.
Continue in this manner, one cavity at a time until all 6 cavities are finished. Let soaps set up.
To large microwave-safe measuring cup, add 36 oz. of cut up clear soap. Add one half of the Crimson Wine Sparkle color block. Place in microwave and heat until soap and color have all melted.
Stir well then add 1.65 oz. of fragrance mixture. When soap has cooled to 125°F, spritz first soap cavity with alcohol. Pour red soap over gold ribbons. Spritz top to release air bubbles. Continue until all six bars are poured. Set aside until soap has set up.
While soap is setting up, you can make the soap curls. For this step you will need a vegetable peeler or a soap beveler/planer (which is what we used).
Taking the thick gold square made in Step 5, use the vegetable peeler or beveler to shave off soap curls for the top of the gift boxes.
Once red soaps have set up, remove from mold. Melt about 1 oz. of clear soap in plastic beaker.
Spritz top of first box with alcohol. Drizzle a small amount of clear soap in middle. Spritz some curls with alcohol and place in melted soap. Drizzle extra soap over curls to hold them in place.
Continue in this fashion will all soap boxes. Set aside. There will be some leftover curls for remaining 6 gift boxes.
Wash silicone mold in warm, sudsy water and dry thoroughly.
Repeat above steps to make green soap boxes. For Step 2, only melt 2 oz. of clear soap and add some gold color. Pour this into one soap cavity. This will make additional soap curls. Once green soap has been melted, add 1/2-1 teaspoon of Iridescent Sparkle Glitter and stir well. Pour when soap has cooled to 125°F. Let harden then finish with soap curls on top.
Once all soaps have been made, package and label accordingly.
Package in airtight packaging and label product accordingly.
To Use: Lather onto wet skin and rinse with warm water.
Ingredient Label:
Sorbitol, Propylene Glycol, Water, Sodium Stearate, Sodium Laureth Sulfate, Sodium Myristate, Sodium Cocoyl Isethionate, Glycerin, Triethanolamine, Propylene Glycol, Fragrance, Chromium Oxide, Mica, Titanium Dioxide, Iron Oxides, Glitter.