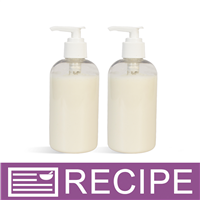 (Enlarge Image)
NOTE: If you are making these products for sale, good manufacturing practices recommend you wear a hairnet, gloves and a mask. We also recommend a clean apron and workspace.
Into a heat safe pan add 12 oz. of wine. On stove top, bring to a boil, and then simmer for ten minutes. This will remove any alcohol content in the wine. Any brand of wine is fine to use. (Some of the wine will evaporate while simmering.)
Remove from heat after ten minutes. Weigh 6.60 oz. in a separate container and let cool.
In a large microwave-safe container, add emulsifying wax, stearic acid, safflower oil and grape seed oil.
Place in microwave and heat until the waxes have completely melted.
Add olive butter blend to warm oil mixture and stir until butter has melted.
To large glass mixing bowl, add water and heat in microwave until warm to the touch.
Pour the warmed water into the 6.60 oz. of wine.
Slowly pour the water/wine mixture into the oil mixture.
Use a stick blender or hand mixer to blend until lotion starts to thicken.
Add isopropyl myristate, vitamin E and fragrance oil and continue to blend until the lotion completely thickens.
When the lotion has cooled to below 140º F, add preservative and blend.
Immediately fill each bottle with 7 oz. of lotion by weight. Lotion will continue to thicken as it cools.
Cut dip tubes to fit length of bottles and place apply to bottles once lotion has cooled completely.
Label product accordingly.
To Use: Rub into dry skin as needed.
Ingredient Label:
Water, Wine, Safflower Oil, Emulsifying Wax, Grape Seed Oil, Olive Butter, Stearic Acid, Isopropyl Myristate, Vitamin E, Fragrance, Propylene Glycol, Diazolidinyl Urea, Methylparaben, Propylparaben.