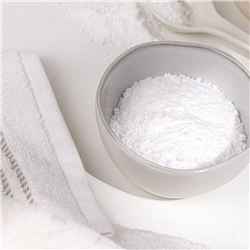 (Enlarge Image)
NOTE: If you are making these products for sale, good manufacturing practices recommend you wear a hairnet, gloves, and a mask. We also recommend a clean apron and workspace.
Add Epsom Salt and Fragrance Oil to large mixing bowl and mix well.
Add Baking Soda to the salt mixture. Whisk gently to combine.
Turn iron or flat iron on to medium heat.
Fill each heat seal packet with 1.65 oz of mixture.
Seal the end of each bag with the iron or by using a flat hair straightener.
Add label and package as desired.
To Use: Add powder directly to the fabric softener compartment of washing machine.
Ingredient Label:
Magnesium Sulfate, Sodium Bicarbonate, Fragrance.