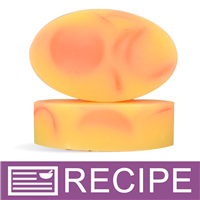 (Enlarge Image)
NOTE: If you are making these products for sale, good manufacturing practices recommend you wear a hairnet, gloves and a mask. We also recommend a clean apron and workspace.
For Petals: To a microwave-safe measuring cup, add 5 oz. of cut up Extra Clear Soap Base. Heat in 20 second intervals until the soap has completely melted.
Add 4 ml Wild Rose Fragrance Oil and 4 ml Rose Water Essential Hydrosol and mix.
In a small beaker, blend 0.35 oz. glycerin with 1-2 micro scoops of NuTone Magenta Mica Powder* using mini-mixer. Add this color to the melted soap.
Using the Muffin (Petite) Silicone Mold, pour soap into each cavity in extremely thin layers. Spritz with alcohol and let harden.
Remove "rose petals" from mold and set aside. Reheat soap, if it has hardened, and pour the next batch of petals continuing this step until all the soap has been poured. You should have approximately 40 "rose petals" when finished.
To a large microwave-safe measuring cup, add 8 oz. of cut up Extra Clear Soap and 8 oz. of cut up Shea Soap. Heat in microwave until completely melted.
Add 0.50 oz. of Meyer Lemon Fragrance Oil and stir.
Mix 0.35 oz. of glycerin with 2 micro scoops of Matte Yellow Oxide Pigment Powder. Blend well with mini-mixer and add to soap until desired color is reached.
Add 0.50 oz. of Rose Water Essential Hydrosol and mix well.
When soap temperature cools to 125°F, pour a thin layer of yellow into each cavity. Spritz "rose petals" and roll/wrinkle them, then drop desired amount of petals into each cavity. Be sure to save some extra petals for the second set of soaps.
Slowly pour yellow soap over the "rose petals" until the cavities are filled to the top. Spritz well with alcohol.
When soap has completely set up, remove from mold.
Repeat recipe to make remaining 4 soap bars.
Package as desired and label accordingly.
To Use: Lather onto wet skin and rinse with warm water.
*On 9/18/19, Neon Coral and Cocktails Powder was changed to NuTone Magenta Mica Powder due to discontinued product.
Ingredient Label:
Sorbitol, Propylene Glycol, Sodium Laureth Sulfate, Stearic Acid, Water, Sodium Hydroxide, Myristic Acid, Sodium Cocoyl Isethionate, Lauric Acid, Rose Water, Shea Butter, Glycerin, Fragrance, Titanium Dioxide, Iron Oxides, Fluorphlogopite, Tin Dioxide.