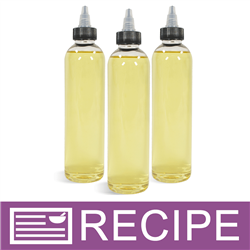 (Enlarge Image)
NOTE:
If you are making these products for sale, good manufacturing practices recommend you wear a hairnet, gloves and a mask. We also recommend a clean apron.
To microwave-safe measuring cup, add shea butter and add avocado oil.
Heat in microwave until shea butter is fully melted.
Add soybean oil, vitamin e, botanical extract, sunflower oil and fragrance. Mix well.
Pour into bottles and apply top.
Label accordingly.
To Use:
Massage onto hands and arms.
Warning:
For external use only. Can make surfaces slippery. Flammable.
Ingredient Label:
Soybean Oil, Sunflower Oil, Avocado Oil, Shea Butter, Sunflower Oil Calendula Extract, Sunflower Extract, Aloe Leaf Extract, Carrageenan Extract, Althaea Officinalis Root Extract, Essential Oil.