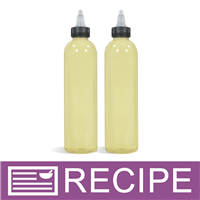 (Enlarge Image)
NOTE:
If you are making these products for sale, good manufacturing practices recommend you wear a hairnet, gloves and a mask. We also recommend a clean apron, workspace and sanitized equipment.
To measuring cup, add 0.35 oz. Shea Butter and 11.35 oz. Avocado Oil and melt in microwave.
Add 22.65 oz. Soybean Oil, 11.35 oz. Sunflower Oil, 0.35 oz. Vitamin E, 0.50 oz. Botanical Extract and 0.35 oz. Sedona Spa Fragrance oil.
Stir well with spatula.
Fill six bottles to 7.75 oz. by weight. Allow to cool and twist on caps.
Repeat to make remaining six bottles.
Label accordingly.
WARNING:
In cooler temperatures oil may cloud, shake well before use.
To Use:
Massage into skin as often as desired.
Ingredient Label:
Soybean Oil, Sunflower Oil, Avocado Oil, Shea Butter, Vitamin E, Calendula Extract, Sunflower Extract, Aloe Extract, Irish Moss Extract, Marshmallow Extract, Fragrance.