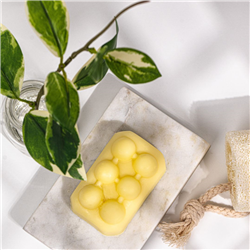 (Enlarge Image)
NOTE: If you are making these products for sale, good manufacturing practices recommend you wear a hairnet, gloves and a mask. We also recommend a clean apron and workspace.
In a dedicated pot and on low heat, melt 4 oz. Cocoa Butter, 2 oz. Shea Butter and 2 oz. Beeswax. Stir occasionally.
Remove from heat and add 2 oz. Jojoba Oil, 2 oz. MCT and 2.5 ml Vitamin E. Stir and mix in well.
Return to low heat until fully melted.
OPTIONAL: If scenting, add 1% Essential or Fragrance Oil - (up to 0.12 oz.)
Place plastic mold on a cookie sheet and pour melted liquid into each cavity until full.
If any liquid remains, it can be remelted and poured into the mold after the first batch has hardened. Mold can be placed in refrigerator to speed up process.
Once hardened, unmold and package as desired.
Repeat above steps to make remaining 3 lotion bars.
Label product accordingly.
To Use: Gently massage skin area with bar. Soothing ingredients will soak into the skin without feeling greasy.
Note
: Store in cool place. In warm weather, product can soften and can melt if left in purse or hot car.
Ingredient Label:
Beeswax, Cocoa Butter, Jojoba Oil, Shea Butter, Medium Chain Triglycerides, Vitamin E.