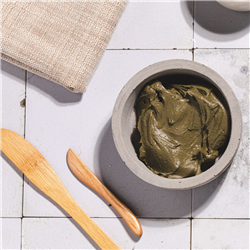 (Enlarge Image)
NOTE: If you are making these products for sale, good manufacturing practices recommend you wear a hairnet, gloves and a mask. We also recommend a clean apron, workspace and sanitized equipment.
To a microwave-safe mixing bowl, add Marula Oil, Aloe Vera Oil, Cetyl Alcohol and BTMS-50. Heat in microwave until waxes have completely melted. (If wax starts to harden at all, place back into microwave for 1 minute or until melted.)
Add water to a microwave-safe measuring cup and heat for 2.5 minutes. Mix in Green Tea Extract.
Slowly pour a small amount of water into heated oils/wax and begin to blend with hand mixer. Add water, a little at a time, until all has been added. Blend until ingredients are well mixed.
Stir in glycerin and preservative. Mixture will be thin. Let set out at room temperature to thicken or place in refrigerator until mixture becomes a lotion consistency. Mix until smooth.
To a mixing bowl, add Sea Clay and Matcha powder. Stir with wire whisk to blend. Slowly add powder to the mixture and stir in with a spatula. Then, use a hand mixer and blend until product is smooth.
Cover bowl with plastic wrap and let set overnight. This will ensure product has completely cooled and thickened.
Whip product briefly then fill each jar to 3.50 oz. each. Any leftover product can be divided up.
Filling jars can be a bit messy. Wipe off area around the top of jar, then put on lid. Wipe outside of jars with a soapy paper towel then wipe dry.
Label product accordingly.
To Use: Using the spatula, scoop out mask and apply to face avoiding eye area. Leave on for 15-20 minutes. Add a small amount of warm water and rub into skin. Rinse off and pat dry.
Ingredient Label:
Water, Sea Clay, Matcha, Marula Oil, Aloe Vera Oil, Cetyl Alcohol, BTMS-50, Green Tea Extract, Glycerin, Phenoxyethanol, Caprylyl Glycol.