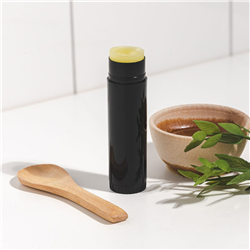 (Enlarge Image)
NOTE: If you are making these products for sale, good manufacturing practices recommend you wear a hairnet, gloves and a mask. We also recommend a clean apron and workspace.
To heat-safe pot, add olive oil and beeswax. Heat on low until wax has completely melted.
Allow mixture to cool down to 145°F.
Add Menthol Crystals and essential oil, stirring until crystals dissolve.
Quickly pour mixture into the tubes (mixture will harden quickly). Should mixture start to harden, place briefly on heat source until liquid.
Once filled, apply lids. (This will help preserve the menthol scent.) Do not wait until mixture turns solid.
Label product accordingly.
To Use: Apply onto chest to help relieve stuffy noses. CAUTION: Do not use on children under 10. Discontinue use if irritation occurs.
Ingredient Label:
Olive Oil, Beeswax, Menthol, Essential Oil.