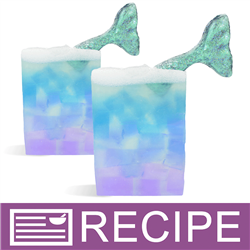 (Enlarge Image)
NOTE: If you are making these products for sale, good manufacturing practices recommend you wear a hairnet, gloves and a mask. We also recommend a clean apron and workspace.
To microwave-safe measuring cup, add 3.8 oz. of cut up clear soap base. Heat in microwave until melted.
Add 0.15 mL scoop of emerald green mica to the melted soap and stir well.
Pour green soap into mermaid tail soap mold and spray with rubbing alcohol. Set aside to harden.
To another microwave-safe measuring cup, add 7.2 oz. of cut up clear soap base. Melt in microwave.
Add 0.15 mL scoop of purple denim mica and 3 mL of fragrance oil, stir well.
Pour purple soap into four of the square guest silicone mold cavities and set aside to harden.
When soap has hardened, repeat steps 4 through 6 for the blue bell bottom mica and turquoise teal mica.
Remove the teal, purple, and blue square soaps from their molds and cut into small squares about one centimeter wide by one centimeter tall. Set aside.
To plastic beaker, add galaxy glitter and a little bit of rubbing alcohol.
Remove mermaid tails from soap mold and using a paintbrush, paint glitter onto mermaid tails. Set aside.
To large microwave-safe measuring cup, add 18.4 oz. cut up clear soap base and melt in microwave.
To melted soap, add 2 – 0.15 mL mini scoops Tropical Sea Green Mica and 0.60 oz. of fragrance oil. Stir well.
To loaf mold, add purple cubes of soap and spray well with rubbing alcohol. Repeat for blue soap cubes and then the green soap cubes ensuring to spray liberally with rubbing alcohol.
Place mermaid tails in soap mold about half an inch apart so they are sticking up out of the mold. Balance them along the side to help keep them upright. Liberally spray with rubbing alcohol.
Ensure melted sea green soap is under 140°F, then pour into mold over soap cubes and mermaid tails. Be sure to tap mold on counter as the soap is being poured so that it gets between all the colored soap cubes. Set aside to harden.
To measuring cup, add 5 oz. clear soap base. Melt in microwave. Add 2-3 micro scoops of titanium dioxide and mix well.
Using a hand mixer, whip melted soap until it is frothy but still pourable.
Spray top of hardened soap in loaf with rubbing alcohol.
Pour whipped soap on top of loaf ensuring to get between each mermaid tail. Sprinkle Sparkle White Snow mica over whipped soap. Allow to completely harden.
Carefully slice soap so tail is not disturbed. Wrap in plastic wrap.
Label product accordingly.
To Use:
Gently massage onto wet skin. Rinse off with warm water.
Ingredient Label:
Sorbitol, Propylene Glycol, Sodium Laureth Sulfate, Sodium Stearate, Sodium Myristate, Sodium Cocoyl Isethionate, Sodium Laurate, Glycerin, Fragrance, Fluorphlogopite, Synthetic Fluorphlogopite, Titanium Oxide, Titanium Dioxide, Tin Oxide, Tin Dioxide, Iron Oxide, Mica, Ultramarine Blue, Chromium Oxide Green, Polyethylene Terephthalate, Acrylates Copolymer.