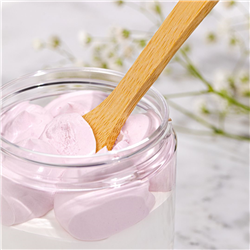 (Enlarge Image)
NOTE: If you are making these products for sale, good manufacturing practices recommend you wear a hairnet, gloves and a mask. We also recommend a clean apron and workspace.
Into heat-safe pan or double boiler, add entire bag of shea butter.
On stove, heat butter on low until completely melted. Immediately place in refrigerator to cool for approximately 1 hour. This is done to remove any graininess in the shea butter.
Remove bowl from refrigerator. Transfer product to large mixing bowl.
Add Apricot Kernel Oil, Meadowfoam Seed Oil and Jojoba Oil. Stir slightly with a spatula or large spoon.
Using hand mixer or Kitchen-Aid, begin to mix on low until oils have somewhat incorporated. Once these have blended, raise speed to medium, scraping sides of bowl occasionally.
Mix for about 10 minutes on medium-high.
To plastic beaker, mix fragrance with vanilla color stabilizer. Let sit for 2 minutes.
To whipped product, add 3 Tablespoons of Slick Fix Powder and fragrance mixture.
Mix again on low, then raise speed to medium-high for another 10 minutes.
With this last 10 minutes, you will see the product thicken and get to a fluffy, whippy consistency.
Turn off mixer. Product will thicken even more if left to sit for about a half hour.
Take approximately 11 oz. of mousse out of the bowl and add to a smaller bowl. Add 1/2 tsp. of French Silk Stocking Mica Powder and stir gently to blend. Add more color if a darker shade is desired.
To fill jars, place white lotion into a piping bag or a zip lock bag, cutting the tip off for filling.
Fill each jar to 2 oz. by weight by piping the lotion around the inside of the jar.
Fill another piping bag or zip close bag with the pink lotion. Pipe 1 oz. of this on top of the white lotion filling each jar with 3 oz. total by weight.
Apply silver lids to the jars.
Label product accordingly.
To Use: Apply to skin at bedtime. If desired, apply cotton gloves after applying to hands.
Ingredient Label:
Shea Butter, Apricot Kernel Oil, Meadowfoam Seed Oil, Jojoba Seed Oil, Fragrance, Tapioca Starch, Mica, Titanium Dioxide, Iron Oxide.