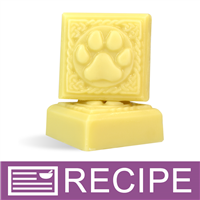 (Enlarge Image)
NOTE: If you are making these products for sale, good manufacturing practices recommend you wear a hairnet, gloves and a mask. We also recommend a clean apron and workspace.
To a heat-safe melting pot, add Beeswax, Olive Butter and Avocado Oil. Heat over low heat until completely melted.
Remove from heat and add the Shea Butter. Let this melt naturally in the pot. Stir and mix well.
Add Neem Oil and Oatmeal. Stir. If necessary, you may return the pot to low heat to fully blend in the oatmeal.
OPTIONAL: If scenting, add 1% Essential Oil. This bar will have a natural aroma, mostly from the shea and neem oil, so it is not necessary to fragrance.
Place plastic mold on a cookie sheet. Once temperature of mixture is between 135-140°F, pour into mold. Let completely harden. Can also be placed in refrigerator to set up.
Once hardened, unmold and cut into bars. These will be soft after cutting. Let sit out to harden overnight for ease of packaging.
Label product accordingly.
To Package: Wrap each bar in clear plastic wrap, then place in a glassine bag. Add label and/or use pawprint stamp to decorate bag.
To Use: Apply to nose and paw pads daily during winter months. Watch that your pet does not lick off the product.
Ingredient Label:
Shea Butter, Beeswax, Olive Butter, Avocado Oil, Neem Oil, Oat Flour.