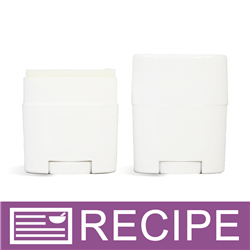 (Enlarge Image)
NOTE: If you are making these products for sale, good manufacturing practices recommend you wear a hairnet, gloves and a mask. We also recommend a clean apron and workspace.
To metal pot, add beeswax, lotion bar additive, shea butter, coconut oil and MCT.
Place over desired heat source (stove top or double boiler) and heat on low until all ingredients have completely melted.
Add magnesium stearate and arrowroot powder. Powders do not easily blend in so continue to blend with wire whisk until incorporated.
Add fragrance and Vitamin E and blend in.
Pour mixture into lotion bar tubes. ( New packaging April 2021) Let completely harden before placing tops on tubes.
Label product accordingly.
To Use: Apply to underarms daily.
Ingredient Label:
Coconut Oil, Magnesium Stearate, Medium Chain Triglycerides, Arrowroot Powder, Beeswax, Shea Butter, Polyglycerol-3 Beeswax, Fragrance, Vitamin E.