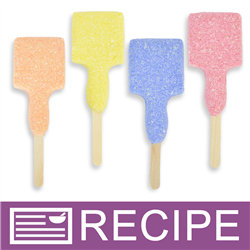 (Enlarge Image)
NOTE: If you are making these products for sale, good manufacturing practices recommend you wear a hairnet, gloves and a mask. We also recommend a clean apron, workspace and sanitized equipment.
(We recommend using a mask when working with lathanol powder. It is a very fine powder and becomes airborne very quickly.)
Place two molds on a cookie sheet to give them stability and keep area clean.
In a large bowl, add Sodium Carbonate, Bubble Cake Hardener and Lathanol. Gently whisk ingredients until blended.
Drizzle in Glycerin, Bubble Up and Fragrance. Mix well with spatula or gloved hands.
Using three smaller mixing bowls, place 3.5 oz. of mixture into each bowl. The larger bowl or fourth bowl will have 3.5 oz. left after dividing up the mixture.
In the first bowl, add 3-4 micro scoops of one color. Mix with gloved hands until the mixture is completely coated. Fill two paintbrush cavities halfway with mixture. Press to pack down well. Place a soap pop stick halfway into mixture. Fill cavities with the remainder of the mixture. Pack it down well. The mixture will be mounded up slightly on top. Remove any excess from below the handle part of the brush.
Take the second bowl and add another color, again mixing with gloved hands. Fill another two cavities with this mixture.
Continue with the last two colors until all eight bubble wands have been made.
Set these aside to harden overnight.
Carefully remove from molds. Package one or two paintbrushes in a cello bag and tie with ribbon.
Label product accordingly.
To Use: Wave bubble wand back and forth under running water to create bubbles. Let dry between uses. Should last for 1-2 baths depending on how many bubbles are desired.
Ingredient Label:
Sodium Carbonate, Potassium Bitartrate, Sodium Lauryl Sulfoacetate, Glycerin, Cocamidopropyl Betaine, Fragrance, Fluorphlogopite, Titanium Dioxide, Tin Dioxide, Iron Oxide, Manganese Violet.