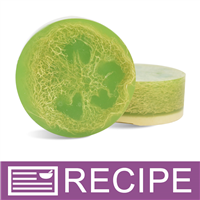 (Enlarge Image)
NOTE: If you are making these products for sale, good manufacturing practices recommend you wear a hairnet, gloves and a mask. We also recommend a clean apron.
To make 12 bars of soap, recipe must be made twice.
To large microwave-safe mesuring cup, add 24 oz. cut up Extra Clear MP Soap.
Add 0.10 oz. green color bar to soap.
Heat in microwave for 3 minutes or until melted.
Add 0.70 oz. Fragrance Oil and mix well.
Place a luffa slice into each of the 6 mold cavities.
Pour soap into each mold leaving ¼" of space. Spritz with alcohol and allow to harden.
To clean microwave-safe measuring cup, add 8 oz. cut up Oatmeal MP Soap.
Heat in microwave in 30 second increments until soap has melted.
Add 0.20 oz. Fragrance Oil and mix well. Wait until temperature is 130°F or below.
Spritz green soaps with rubbing alcohol and fill mold cavities with melted soap.
Allow to harden, then remove soap bars from mold. Wrap in plastic wrap.
Repeat to make 6 additional soaps.
Label accordingly.
To Use: Lather onto wet skin. Rinse off with warm water.
Ingredient Label:
Sorbitol, Propylene Glycol, Sodium Laureth Sulfate, Stearic Acid, Myristic Acid, Water, Sodium Hydroxide, Sodium Cocoyl Isthionate, Oatmeal, Coconut Oil, Glycerin, Luffa, Fragrance, Chromium Oxide.