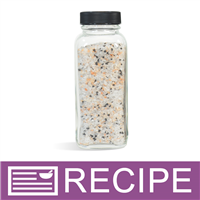 (Enlarge Image)
NOTE: If you are making these products for sale, good manufacturing practices recommend you wear a hairnet, gloves and a mask. We also recommend a clean apron and workspace.
To a large mixing bowl, add epsom salts, black and pink sea salts.
Pour 1 oz. menthol crystals into a small bowl or mortar (if available). These will be crushed into a powder with either a metal spoon or a pestle. Crush up the menthol crystals until most of them are a powder consistency. It is fine to leave some not completely crushed.
Add the menthol powder into the salt mixture. Blend entire mixture to completely incorporate all the ingredients.
To fill bottles, place an empty glass bottle with a funnel on scale and tare to zero. Pour 4.10 oz. of salt mixture into each glass bottle.
Top with black cap and package as desired.
Label product accordingly.
TO USE: Pour approximately ¼-½ cup into foot bath or foot massager with warm water. Soak feet as desired.
Ingredient Label:
Magnesium Sulfate, Himalayan Sea Salt, Sea Salt, Activated Charcoal, Menthol.