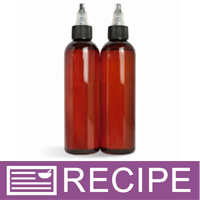 (Enlarge Image)
NOTE: If you are making these products for sale, good manufacturing practices recommend you wear a hairnet, gloves and a mask. We also recommend a clean apron and workspace.
To microwave-safe measuring cup, add all ingredients except fragrance and Vitamin E.
Gently stir to incorporate.
Place bowl in microwave and heat oils for about 30 seconds-1 minute.
Add Vitamin E and Peppermint Cream fragrance oil. Mix well.
Pour into bottles and let product cool completely before applying caps.
Label product accordingly.
To Use:
Gently massage into skin.
Ingredient Label:
Macadamia Nut Oil, Sweet Almond Oil, Pumpkin Seed Oil, Sesame Oil, Fragrance, Vitamin E.