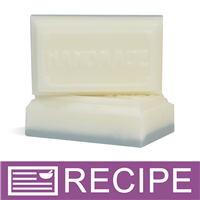 (Enlarge Image)
NOTE: If you are making these products for sale, good manufacturing practices recommend you wear a hairnet, gloves and a mask. We also recommend a clean apron nd workspace.
To microwave-safe measuring cup, add Coconut Milk MP Soap and heat in microwave until completely melted.
Mix Fragrance Oil and Vanilla Color Stabilizer in a plastic beaker. Stir and let sit for 2 minutes.
Pour fragrance mixture into soap and blend in.
Place tray mold on scale and tare. Fill mold with 22 oz. of soap. Spritz with rubbing alcohol and let soap harden.
To remaining soap, add 0.05 oz. Evergreen Color Bar. Stir until color has completely melted. Set aside until first layer has hardened.
Spritz first layer generously with rubbing alcohol. If necessary, briefly reheat green soap (temperature should not exceed 125°F) and pour over the top. Spritz top with rubbing alcohol and let completely harden.
Remove soap from mold and cut into 15 individual bars. Wrap in plastic wrap.
Label product accordingly.
To Use: Lather onto wet skin. Rinse off with warm water.
Ingredient Label:
Sorbitol, Coconut Oil, Propylene Glycol, Stearic Acid, Water, Sodium Hydroxide, Glycerin, Coconut Milk, Fragrance, Titanium Dioxide, Chromium Oxide Green.