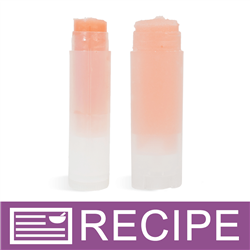 (Enlarge Image)
NOTE: If you are making these products for sale, good manufacturing practices recommend you wear a hairnet, gloves and a mask. We also recommend a clean apron and workspace.
Lip Scrub: To a heat-safe measuring cup, add 0.80 oz. Coconut 76 Oil, 0.80 oz. Mango Butter and 0.25 oz. Lotion Bar Additive. If Coconut 76 Oil is solid, place in cup of hot water until liquid.
Place measuring cup in a shallow pan of boiling water or a double boiler can also be used. The water should not be high enough to splash into the measuring cup.
Once wax, oils and butters have melted completely, remove from heat source.
Stir in 0.10 oz. Pink Lemonade Flavor Oil, 0.10 oz. vitamin E and 1 micro scoop of pink mica powder. Stir until color has completely blended in. Let cool for 5 minutes.
While mixture is cooling, weigh out sugar and pour through a strainer. Using the back of a spoon, push through any clumps that remain.
Slowly pour sugar into liquid mixture, stirring while pouring.
Fill all 12 oval lip tubes with scrub mixture. Stir after each pour to keep sugar mixed well. Tap tube on the counter while filling to be sure there are no air bubbles. If scrub starts to thicken, place back into pan of hot water until mixture thins out.
Once tubes are filled, let completely harden, then apply caps.
Lip Balm: To heat-safe measuring cup, add 0.30 oz. Beeswax, 0.10 oz. Candelilla Wax, 0.50 oz. Cocoa Butter, 0.80 oz. Apricot Kernel Oil and 0.10 oz. Castor Oil.
Place measuring cup into pan of boiling water and let ingredients melt. Remove from heat.
Stir in 0.10 oz. Pink Lemonade flavor oil, 0.10 oz. Vitamin E and 2 micro scoops of pink mica powder.
Fill all 12 round lip tubes. Remelt any remaining lip balm to fill in any sink holes or to top off the tubes once they have hardened.
Let lip balm completely harden then apply caps. Label as desired. If selling, be sure to follow proper FDA guidelines.
Package one balm and one scrub in a white lip tube box.
To Use: Gently massage scrub onto lips and wash off with warm water. Follow with lip balm to moisturize.
Ingredient Label:
BALM: Behenyl Behenate, Polyhydroxystearic Acid, Euphorbia Cerifera (Candelilla) Wax, Cocoa Butter, Apricot Kernel Oil, Castor Oil, Vitamin E, Flavor, Mica, Titanium Dioxide, Iron Oxide, Silica. SCRUB: Sugar, Coconut Oil, Mango Butter, Polyglycerol-3 Beeswax, Vitamin E, Flavor, Titanium Dioxide, Iron Oxide, Silica.