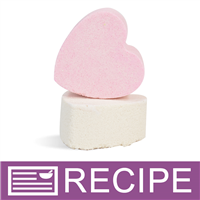 (Enlarge Image)
NOTE:
If you are making these products for sale, good manufacturing practices recommend you wear a hairnet, gloves and a mask. We also recommend a clean apron and workspace.
Add baking soda, citric acid, and white kaolin clay to large mixing bowl.
Sift powders to remove any clumps and mix well.
Divide mixture into two bowls, each 26 oz. by weight.
Add pink powder to one bowl and whisk.
Mix 0.50 oz. fragrance oil with 0.50 oz. vanilla color stabilizer and let sit for two minutes. Drizzle fragrance over pink bowl, moving to different areas while pouring, and mix well with whisk or gloved hands.
Drizzle 0.50 oz. of rubbing alcohol over bowl and mix well.
Firmly press mixture into mold cavities of two molds.
Repeat with second bowl, adding fragrance and rubbing alcohol, and fill remaining molds.
Let harden overnight then gently unmold.
Package four fizzies together in each organza bag.
Label product accordingly.
To Use:
Drop in warm bath. Soak in warm water.
Ingredient Label:
Baking Soda, Citric Acid, Kaolin Clay, Fragrance, Mica, Titanium Dioxide, Tin Oxide, Iron Oxide.