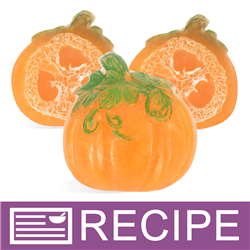 (Enlarge Image)
NOTE: If you are making these products for sale, good manufacturing practices recommend you wear a hairnet, gloves and a mask. We also recommend a clean apron and workspace.
To a microwave-safe container, add 11 oz. of cut up clear soap. Add 0.10 oz. orange sparkle bar. Heat in microwave until melted.
In plastic beaker, add 0.30 oz. Pumpkin Peppercorn FO and 0.15 oz. Vanilla Color Stabilizer. Mix and let sit for two minutes. Add to melted soap and stir well.
Place mold on cookie sheet for stability. Place one luffa into each mold cavity.
Pour soap over each luffa. Push down on luffa so it soaks up the soap. Fill to the top. Spritz with rubbing alcohol and let harden.
Remove from mold and set aside.
Repeat to make additional three bars.
In a small bowl, mix 1-2 micro scoops of green mica powder with just enough rubbing alcohol to make a smooth paint, but not too watery. Paint stem and vines on each pumpkin. Set aside to dry completely.
Package as desired.
Label product accordingly.
To Use: Lather onto wet skin. Use luffa side to gently scrub heals and elbows. Rinse off with warm water.
Ingredient Label:
Sorbitol, Propylene Glycol, Sodium Laureth Sulfate, Stearic Acid, Myristic Acid, Water, Sodium Hydroxide, Sodium Cocoyl Isethionate, Mica, Titanium Dioxide, Iron Oxide, Chromium Oxide Green.